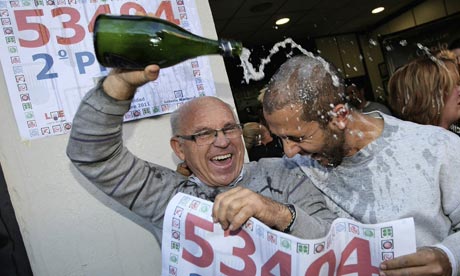 People celebrate after winning El Gordo lottery in Spain. Photograph: Manuel Buque/EPA
Spain has had a rough year in 2011.
But for the winners of the Dec. 22 El Gordo lottery, things are certainly looking up in 2012.
As you might expect, Spaniards bet heavily on the world's biggest lottery, the Fat One " El Gordo " which distributed almost $2bn (£1.66bn) to winners around the country in late December.
The main winners were the inhabitants of the small northern country town of Grañén, where $700m of prize money was handed out.
That's right. 700 million euros in ONE TOWN.
The town and its neighbouring villages are home to just 2,000 people " who won up to $400,000 each after buying shares in the top-paying lottery number.
The money promises to transform this farming community in the northern province of Huesca, which sits on the edge of one of the country's harshest and most dramatic landscapes, the desert-like region of Los Monegros.
Many of the winners were, like 23 percent of Spaniards, unemployed.
"Now I can stop worrying so much about getting the sack," a bricklayer called Oscar said after picking up $400,000.
This year the state-owned national lottery increased the size of El Gordo prizes as Spaniards spent an average of $57 each on tickets. That was a slight fall, of 0.5 percent, on last year's spend.
Those who placed money on the winning number received 20,000 times the sum they had bet. Smaller prizes, some worth just a few euros, went to 27 million punters.
El Gordo's 100,000 numbers are divided up into fractions, with people placing anything from a few cents to $200 on their chosen number. Among the biggest winners were the members of the Housewife's Association of Sodeto, a village near Grañén, who shared out millions of euros.
The largest winner, however, is the Spanish state, which keeps 30 percent of the money spent on El Gordo.
El Gordo draw has kicked off Spain's Christmas celebrations every year since it was first drawn in 1812.
"This makes up for a very bad year in which we have worked hard for very little reward," said Susana Pérez, who runs a small accountancy firm.
Farmers said they would be paying off bank loans used to buy irrigation systems.
Spaniards pay no taxes on their lottery winnings.
Would that were so here in the states with Powerball and Mega Millions.
Our thanks, by the way, to Manuel S., who emails me regularly from Spain on various subjects, including the lotteries around the world.